Home
> Dokumentacja
> Indywidualnych
Barrisol Dokumentacja : Indywidualnych
Editions BARRISOL Keishu Kawai
Master Keishu Kawai was born in the Japanese district of Ibaraki, to the north of Tokyo. Trained in the art of calligraphy at the prestigious university of Tsukuba, she then trained under the Grand Master Sôin Furutani in Kyoto and became a Master of Calligraphy in her own right, exhibiting works across the globe.
---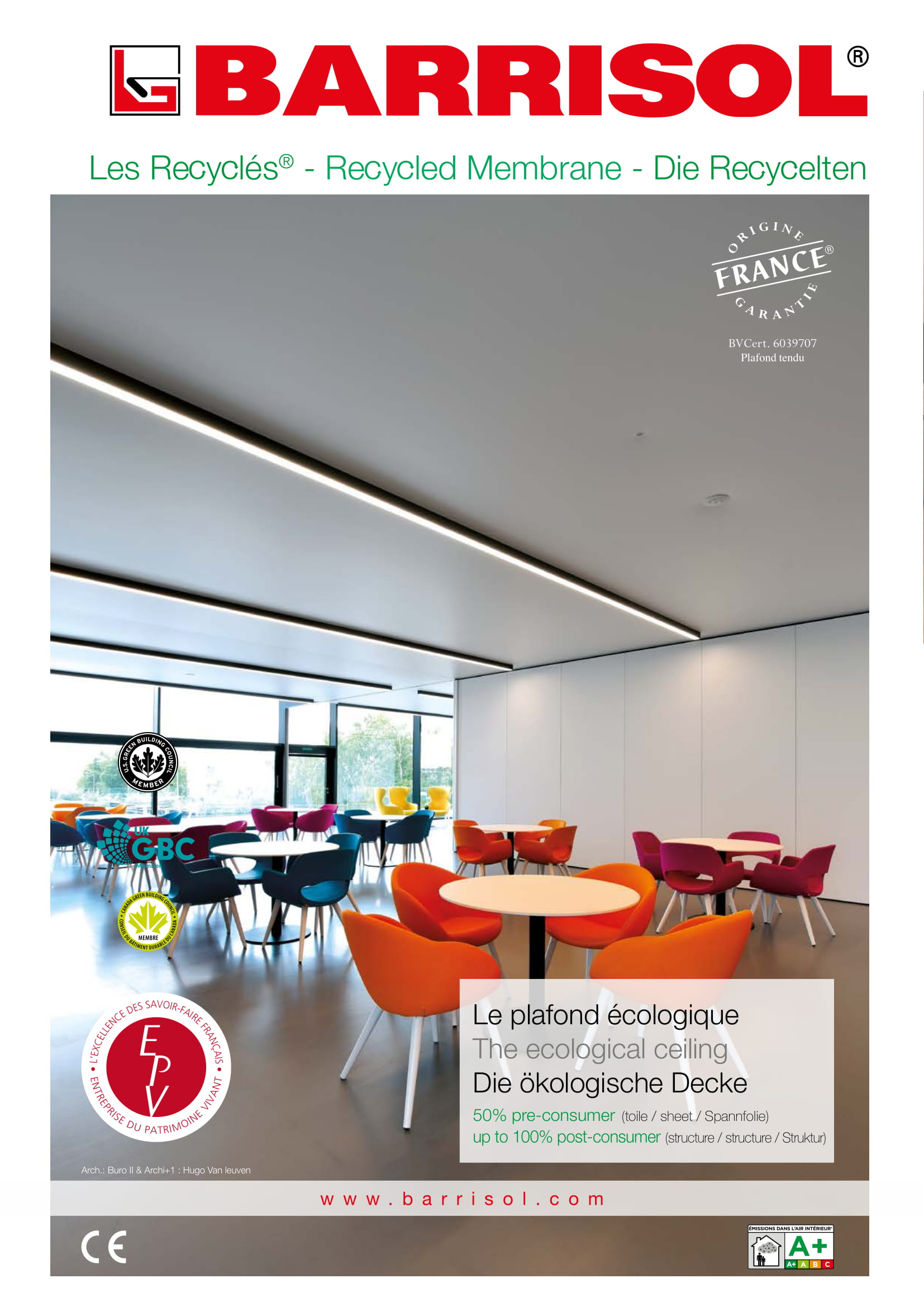 BARRISOL Recycled Membrane
One of our priorities is to respect the environment and thanks to the range Les Recyclés®, Barrisol® also wants to offer you efficient acoustic comfort.
---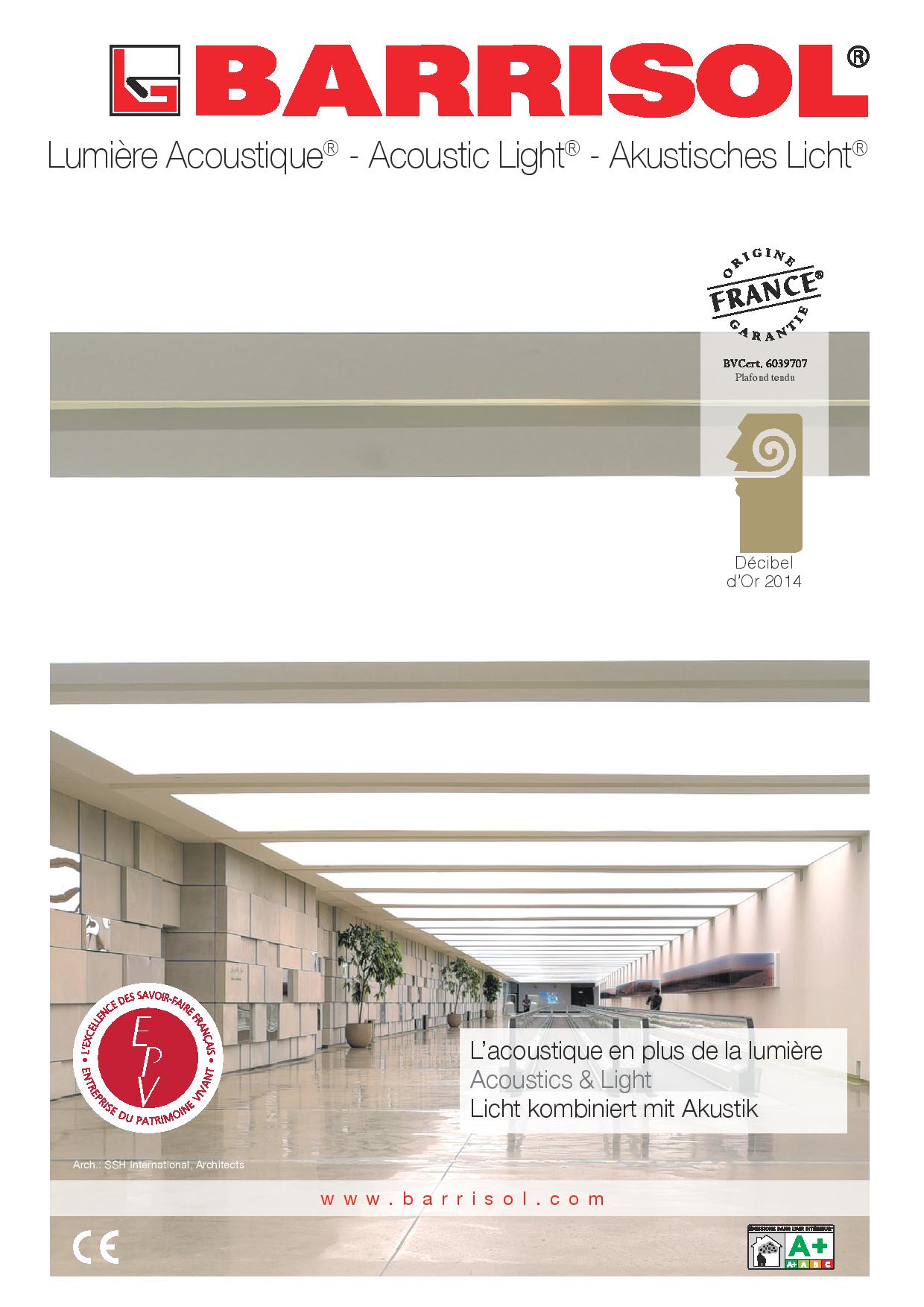 BARRISOL® Acoustic Light®
Acousticians and architects have been expecting it for years. Acoustic light has now become a reality. LUMIERE ACOUSTIC ® by BARRISOL® is the result of many years of research and development. The luminous material has become acoustical, retained its attractive appearance and has excellent sound absorption coefficients...
---
BARRISOL Barricouleur
Odkryj nową broszurę Barricouleur !
Pełny wykaz kolorowy sufitów Barrisol oraz wszystkie informacje techniczne niezbędne dla każdego projektu !
---
BARRISOL® ELT3D®
The Barrisol® ELT®3D product range provides an exceptional, illuminated 3D effect by harnessing the light produced by the LEDs in the woven fabric (in a diagonal or square pattern, etc.). ELT®3D products can also be used as an acoustic solution, incorporating a specially adapted sound absorber (acoustic light).
---
Barrisol GTs
Fabric glass is a material that is part of the family of wall and ceiling coverings. Consisting of extremely fine glass wires, its strength and durability are the most appreciated characteristics.
---
Barrisol Light Lines
With Light Lines® lighting system, you can choose the look you want, depending on your decorative desires and your lighting needs.
---
Barrisol Clim
Silent, invisible and even.
Thanks to the consistent wall temperatures, the natural air flow and the large heat-exchanging surface of the ceiling, Barrisol® Clim® provides unparalleled comfort whether heating or cooling your home.
---
Editions Barrisol - Chantal Thomass
Style and glamour for your walls and ceilings!
Each motif, whether pert or graphic, presents the unique world of Ms Thomass. Paris, world capitals, the mouldings of heritage buildings, and of course, love, all wrapped in glamour and elegance.
---
Editions Barrisol - Hansi Museum
Hansi, an iconic artist.
Thanks to an exclusive partnership with Barrisol®, you can now create a décor with the idyllic images of Alsace.
---
Collection Matières - Marble Effect by BARRISOL®
Turn marble into a flexible and lightweight material with acoustic and luminous properties, which can be adapted to all shapes...
When printed in millions of colours on Artolis® and Barrisol® membranes, a wide variety of marbles can be used for unlimited applications.
---
Collection Matières - The Wood by BARRISOL®
Turn wood into a flexible and lightweight material with acoustic and luminous properties, which can be adapted to all shapes...
That is what the exciting new Matières range from Barrisol® promises to do...
---
Collection Matières - The Brick by BARRISOL®
Replace heavy materials like brick and stone with innovative lightweight materials to revolutionize interior design! Lightweight Barrisol® and Artolis® membranes allow applications out of the reach of conventional materials.
---
Collection Matières - Concrete by BARRISOL®
BARRISOL® ceilings and Artolis® walls are printed in millions of colours thanks to digital printing, which is now integrated into the know-how of BARRISOL®. Make concrete decors with the finish of your choice in our large range of concrete effects.
---
MICROSORBER® by BARRISOL®
MICROSORBER® by Barrisol® is an innovative sound comfort optimizer reducing sound reflexion thanks to the use of a micro perforated foil.
---
BARRISOL® L'ESSENTIEL 2013/2014
Nowa broszura L'ESSENTIEL 2013/2014 przedstawia wszystkie produkty z gamy Barrisol®. Zilustrowana licznymi przykładami projektów z całego świata. Ta ciekawa 60 stronicowa broszura jest dobrą pomocą w prezentacji wszystkich produktów z gamy Barrisol, pokazując detale i możliwości techniczne.
---
Editions BARRISOL® Musée de l'Impression Sur Etoffes
Dzięki wyjątkowej współpracy z Muzeum Tkanin i Drukarstwa w Mulhouse (M.I.S.E), w wydawnictwie Editions Barrisol ® prezentujemy pełną i unikalną ofertę możliwości nadruku ponad 6 mln zdjęć i motywów tkanin, z największego archiwum materiałów i tekstyliów na świecie. To wyjątkowa okazja aby wykorzystać najpiękniejsze motywy stworzone dla kreacji z całego świata.
---
BARRISOL® Editeur contemporain du patrimoine
Poprzez szczególne partnerstwo i współpracę firmy Barrisol® z Réunion des Musées Nationaux (RMN) (Muzea Narodowe) blisko 750 tysięcy dzieł sztuki przechowywanych w francuskich muzeach, narodowych i regionalnych ( np.: Louvre lub Orsay), są dostępne dla Państwa, wszystkie w/w dzieła są możliwe do wydrukowania na naszych materiałach. Pełn
---
Zdjęcie nr 1 Barrisol
Odkryj wspaniałe realizacje w wielu ciekawych miejscach w tym na prywatnych obiektach.
---
Ulotka informacyjna : bezpieczeństwo, jakość i zdrowie
Barrisol stawia na bezpieczeństwo i jakość swoich produktów oraz technologii, a także gwarantuje zgodność ze wszystkimi obowiązującymi przepisami i instrumentami prawnymi
---
Barrisol® Mirror
Barrisol® Mirror jest ekskluzywną aplikacją badań i rozwoju marki Barrisol® która uzupełnia bogatą game produktów i wykończeń Barrisol®. Odkryj dwa pierwsze wykończenia: złote i srebre!
---
BARRISOL Ekologia
Barrisol jest zaangażowany w ochronę środowiska dzięki linii produktów z recyklingu®.
---
Barrisol® fotel Vallon
Barrisol® kontynuuje innowacje , tworząc unikalny projekt we współpracy z artystą Joel Vallon: fotel Vallon. Fotel konfigurowalny o eleganckiej linii i prostej formie posłuży do dekoracji wnętrza według Państwa upodobań.
---
Barrisol® Oświetlenie PLUS
Nowy projekt powstał dzięki współpracy pomiędzy Barrisol® i młodym projektantem Alixem Videlier: Oświetlenie PLUS. To oświetlenie o minimalistycznej formie stworzy oryginalny nastrój zarówno w miejscu publicznym jak i prywatnej rezydencji.
---
Odkryjcie aplikacji profesjonalne, które również mogą być zastosowane u was