Home
> Aktualności
> Aktualności 2017
Aktualności 2017
Październik 2017

Wystawa zdjęć w Saint-Louis

Od 15 września do 7 października 2017 r. W mieście Saint-Louis odbędzie się wyjątkowa wystawa około dwudziestu zdjęć w stylu vintage w hołdzie 19 milionom ludzi zabitych między 14 a 18 rokiem życia.

Marcel Schueller był w stanie zebrać prywatne kolekcje płyt fotograficznych, które przetrwały całe stulecie. Dzięki nowym technologiom komputerowym i skrupulatnej pracy przez długi czas był w stanie wykonać niezapomniane dzieło digitalizacji, czyszczenia i przerabiania tych płyt, aby móc oglądać te obrazy z ulgą na ekranie lub w projekcji wideo.

We współpracy z firmą Barrisol® i wsparciem miasta Saint-Louis, Marcel Schueller stworzył wystawę, która pozwala zobaczyć, poprzez podróż w ciemności, te duże fotografie drukowane na tkaninach Barrisol® i podświetlane przez wyrafinowany system LED.
Wrzesień 2017

BARRISOL będzie wystawiał w 100% Design, Londyn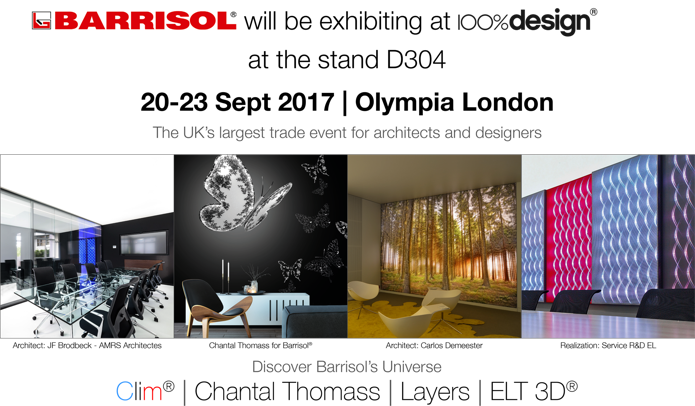 Miło nam poinformować, że Barrisol jest obecny w 100% Design, największym komercyjnym wydarzeniu projektowym, które odbędzie się w Olympia London.
Adres: Olympia London - Hammersmith Road - Kensington - Londyn - W14 8UX - Wielka Brytania
Barrisol z przyjemnością spotka się z Państwem na naszym stoisku D304, aby pokazać Państwu nasze najnowsze innowacje i osiągnięcia projektowe. Zapraszamy do odkrycia naszych produktów, w tym naszego innowacyjnego systemu klimatyzacji - Barrisol CLIM®, nowej tkaniny szklanej oraz kolekcji kompozycji Chantal Thomas zaprojektowanych dla Barrisol®. Uzupełniamy również naszą ofertę drewna, cegieł i materiałów betonowych o marmur.
To wspaniała okazja do wspólnego studiowania swoich projektów.
Jeśli chcesz zaplanować wizytę, wypełnij formularz rejestracyjny tutaj:
Wrzesień 2017

Barrisol® Partner w konkursie Green Solutions Awards na COP23 w Bonn w Niemczech
W 2017 roku, Barrisol® potwierdza swoje zaangażowanie na rzecz walki ze zmianami klimatu i wspiera kategorię "niskoemisyjnych" prezentowany w konkursie Zielone Solutions Awards, organizowanym przez Construction 21.
Odkąd firma została założona 50 lat temu, Barrisol® zdał sobie sprawę ze znaczenia zachowania i poszanowania środowiska i uczynił go jednym z jego priorytetów. Dziś jest to jeden z głównych wektorów swojej polityki korporacyjnej, a także uczestniczyć w ekologiczne rozwiązania Awards pozwoliło Barrisol® powiedzieć, że to było możliwe łączenie tradycji, innowacji, technologii i zachowania naszych zasobów naturalnych.
System Barrisol® zaprojektowany do współpracy z 20 razy mniej surowca niż konwencjonalne urządzenia, a wszystkie tkanki Barrisol® i profile aluminiowe są w 100% do recyklingu. Członek Rad Budowa brytyjski, kanadyjski i US Zielona Barrisol® uruchomiła szereg Barrisol® Les Recyclés® w 2007 roku i innowacyjne w kontekście poszanowania środowiska naturalnego: Barrisol® "Recyclés®" został zaprojektowany od podstaw. membran Barrisol®. Produkty Barrisol® mają również wskaźnik A + i spełniają najsurowsze normy europejskie i międzynarodowe.
Barrisol® pracuje z materiałami nadającymi się do recyklingu i zachęca swoich partnerów i klientów do śledzenia ich w procesie ponownego wykorzystywania materiałów.
Ponieważ sprawienie, by świat jutra był jeszcze piękniejszy, przede wszystkim należy go zachować dzisiaj.
Płótno w 100% nadające się do recyklingu
Wykonane z recyklingowanych membran Barrisol®
20 razy mniej materiału niż konwencjonalny materiał
Członek Green Building Councils w języku angielskim, kanadyjskim i amerykańskim
Klasa emisji VOC A +
Spełnia normy europejskie i międzynarodowe
Gwarancja Francji pochodzenia
Czerwiec 2017

Ross Lovegrove Retrospective, Centre Pompidou

"Barrisol, the world leader in the design and manufacture of stretch ceilings, is very proud of its collaboration with Ross Lovegrove, a world renowned designer for his reflections on organic shapes. With fifty years of industrial experience, Barrisol Normalu has demonstrated great mastery in bringing to life his singular forms and organic silhouettes. The complicity between Ross Lovegrove and Barrisol has pushed the boundaries of Design by finding the most accurate solutions in the field of lighting and mirrors," says Jean-Marc Scherrer, President Barrisol-Normalu SAS.

"Barrisol has a talent for exploring organic and open spaces. Our studio, dedicated to innovation and foresight, concentrated its efforts to deepen the acoustic control, to obtain the best elasticity and lightness of the surfaces, to increase the quality of light diffusion. This facility opens up an aesthetic territory stretching from ocean to space, generating a 21st century dialogue between aquatic biomorphism and NASA intelligence systems" says Ross Lovegrove.

An honor in fact for Barrisol to be part of this adventure, this magnificent retrospective through 13 panels Barrisol for a total of 45 m2 and unforgettable works such as:
Pavillon Lasvit LiquidKristal, 2012
Infinity Loop, 2014
Barrisol Cocoon, 2016

Meet us at the "Ross Lovegrove Convergence" exhibition of the "Mutations / Créations" event of the Centre Pompidou from April 12th to July 3rd 2017 in gallery 3, level 1.
Czerwiec 2017

42nd Street Musical

The biggest musical on Broadway « 42nd Street » is starring a huge Barrisol® Mirror® made from several Barrisol® frames. The choice of Barrisol® has become obvious for the unique decoration of the show « 42nd Street » by the unique qualities of Barrisol® Mirror® :
Mirror

®

fire-rated
Perfect reflection
Very low weight
A+ air quality
100% recyclable
Barrisol® is proud that a show of this magnitude has made the choice of Barrisol®'s flagship product, reflecting the beauty of a scene from this American show (0:38 of the video below).
For more information on this show, visit the official website.
Czerwiec 2017

The Venice Biennale

All the art lovers will tell you, one of the biggest events of this field in the world is the International Exhibition of contemporary art of the Biennale of Venice (Esposizione internazionale d'arte di Venezia).

A major event in which Barrisol is proud to have participated. The world number one has installed a ceiling, this black ceiling, lacquered, stretched in the heart of a Venetian palace is in continuity with the ceilings of Venice, also precursors in their time.

It is an honor for us to have been able to collaborate on an event of this magnitude. And to have ensured that this magnificent Barrisol black lacquered ceiling reflects the equally magnificent works.

An exhibition that will last, with our stretch ceiling, until November 26, 2017.
Czerwiec 2017

Exhibition Mime Marcel Marceau

Since the beginning of March, in the center of Strasbourg, there was an exhibition retracing the evolution and life of the mime Marcel Marceau.

Marcel Mangel, known as Marceau, was born in Strasbourg on March 22, 1923. It is therefore quite natural that this exhibition took place at Place Kléber in the center of Strabourg.

A wonderful event, sober as possible, in which Barrisol could take part.

By choosing Artolis frames as a support for the history of mime, the association "a museum for mime" has done us a great honor. An important and clever choice, both in terms of aesthetics with an intimate atmosphere offering adequate light for an exhibition, and practical, since there is no frills, the light and the frame being only one.

A support as obvious for the world leader of stretch ceiling which, like Marcel Marceau, always knew to remain close to his native region and proud of its roots.
Czerwiec 2017

Barrisol supports the ASPTT-Mulhouse

Proud of its region, the sports represented there and the talents that emerge from it, Barrisol has always made it his mission to bring back to the front of the stage the teams or the sports events that are close to him.

We can cite in a non-exhaustive way the tour of Alsace supported each year, or the tournament "Future" organized by tennis club Illberg and Barrisol since 22 editions. But this support is not exclusively reserved for the region, with, in particular, the international sponsorship of the French men's handibasket team, a desire for Barrisol to support beautiful life projects, and change the looks on this sport.

It is in this process that Barrisol is proud to announce the new partnership with Mulhouse's women's volleyball team, ASPTT-Mulhouse.

We recall that ASPTT Mulhouse is champion of France, you can see the play at home at the Palais des Sports, and their 2017 calendar created in collaboration with Barrisol, who is proud to support this wonderful team that achieved an exceptional performance, is available.
Czerwiec 2017

Haute Couture Spring-Summer 2017 Fashion Show by Franck Sorbier

Not long ago was Fashion Week in Paris, the occasion for the biggest haute couture houses and for the greatest creators to present their new collections "Spring-Summer".

Franck Sorbier was present, with a collection "Haute Couture Spring-Summer 2017" whose motifs inspired by the XIXth made a strong impression.

Patterns that have come a long way before arriving at Fashion Week, since they come from the Museum of Printing on Etoffes of Mulhouse. Eric Ballargent, director of the Museum, explained that more and more designers came to take inspiration from the museum's vast collection. There are no less than 6 million textile samples.

But Franck Sorbier did not stop there, he chose to put Alsace completely in the spotlight this year, choosing an Alsatian firm for its scenery: Barrisol. An honor for the company of Kembs, very close to the Museum, and that for years. The opportunity for the leader of the stretched ceiling to show all his know-how and to sublimate this magnificent parade.

André Manoukian, now familiar with the Barrisol universe through his many collaborations with the company, was also present in the front row.

An unforgettable moment for Maison Sorbier, for the Museum of Printing on Etoffes and for Barrisol.
Styczeń 2017

Barrisol® laureatem nagrody w kategorii eksport 2016

W dn. 15 grudnia 2016 r., podczas 20-tej edycji rozdania nagród w kategorii eksport regionalny, Barrisol® - światowy leader w dziedzinie sufitów napinanych - po raz kolejny został nagrodzony za swoją dynamiczną działalność.

Nagroda ta, ustanowiona przez Izbę Przemysłowo-Handlową w regionie Alzacja, co roku jest wręczana alzackim firmom, które osiągają świetne wyniki i wykazują duży dynamizm w zakresie eksportu. Firmy te stanowią namacalny dowód na to, jak różnorodny jest alzacki know-how, zarówno w sektorach produktów innowacyjnych, jak i w tradycyjnych sektorach gospodarki.

Barrisol® idealnie wpisuje się w powyższe ramy. Z największą przyjemnością odebraliśmy tę nagrodę, jako wyraz uznania dla naszych działań jakie prowadzimy od dnia utworzenia firmy i dla dynamiki, jaką wykazujemy w dziedzinie eksportu. Istotnie, w roku 2016, ponad 60% obrotów Barrisol® pochodziło z eksportu.

Składamy podziękowania wszystkim tym, którzy przyczynili się do tego sukcesu.
Styczeń 2017

Współpraca z muzeum Hansi

Barrisol® nieustannie rozwija swoją działalność w skali międzynarodowej – czego dowodem jest otrzymana przez niego nagroda w kategorii eksportu, ale nie zapomina też o swoich korzeniach.

Nawiązując współpracę z muzeum Hansi, światowy lider w dziedzinie sufitów napinanych podkreśla rolę jaką odgrywa w Alzacji – regionie o bogatych tradycjach i olbrzymim know-how. Wartości te wspaniale eksponuje muzeum Hansi, a Barrisol® nieustannie je propaguje.

Współpraca z muzeum oznacza powiązanie Barrisol® z historią regionu, która w perfekcyjny sposób została ukazana przez Hansi w jego akwarelowych obrazach. Obrazy te, których klimat świetnie wpisuje się w atmosferę Państwa wnętrz, są już dostępne w katalogu zdjęć Barrisol®.

Firma Barrisol® jest świadoma, że podobnie jak w przypadku drzewa, rozkwit i rozwój nie jest możliwy, jeśli nie bazuje na korzeniach.

Dzięki współpracy z muzeum Hansi, oddajemy do Państwa dyspozycji unikalną kolekcję 1500 prac autorstwa Jean-Jacquesa Waltz, tworzącego pod pseudonimem Hansi.